Saturday, June 3 (11:30am-1:00pm)
2023 Spring SOMMINAR Series: A Passport through Coastal Virginia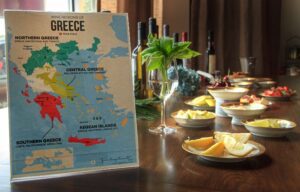 Join us as we celebrate our regions thriving wine industry! We are here to elevate your palate and answer any of your most pressing questions about the world of wine.
Greece Lightning – An Interactive SCENTSory Tasting
With its strong maritime character, high proportion of mountains, soils made of lime, granite and volcanic rock and the prevailing Mediterranean climate with short, humid winters and dry, hot summers, Greece possesses the ideal climate to create some of the most memorable wines on the market today.
Join Sommelier Crystal Cameron-Schaad & Sommelier Tina Morey for an interactive and educational SCENTSory event featuring wines from Greece. Our signature SCENTSory Series tasting format has become one of Crystal Palate's more popular educational tasting experiences!
SCENTSory provides the means to identify a wine's aromatics, the confidence of conversing with others about those wines and of course feeling empowered to taste unknown wines with ease. We'll be tasting seven wines with Mezze platters provided by Catherine's Catering.
Location: Crystal Palate Wine & Gourmet, 4500 Pretty Lake Avenue, Suite 104, Norfolk
Guests: 30
Tickets: $55